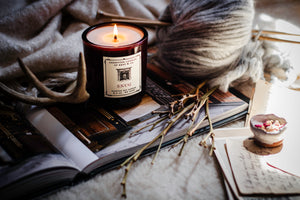 Our Story
We believe in joy, pleasure and luxury; the necessities of a life well lived. All are possible with the strike of a match. At Lodestone Candles, we create rich and sophisticated candles steeped in love with an enhanced sense of comfortable nostalgia. Welcome to your luxe life.
OUR STORY
Meet our Founder
For most of my life I have been a nomad of sorts; born in Savannah, raised in Atlanta, studies in Paris and New Orleans, and work in Washington, DC. Once my wife and I settled on the Eastern Shore of Maryland the roaming continued. The Netherlands, Istanbul, back to Paris and many trips to Scotland continued to feed my desire to explore new places and search for new experiences – to escape the mundane. This collection is inspired by those who find joy in the unique and sophisticated.
- Greg Waddell
details matter
About Our Labels
Our labels are produced on a 1921 Chandler & Price letterpress in Chestertown, Maryland. The paper is American-made Crane & Co. paper and printed with inks made of real gold flecks. The labels provide the strength of character on par with the other worldly scents of Lodestone Candles.