Fret Free Guarantee
The internet can be a shady place. And you are about to purchase something you hope smells good when it arrives. Tricky spot. Luckily, we've got you covered. 

Your Experience
We at Lodestone have been praised time and again for our customer service. We want to be certain you are happy with our products. What does that mean? We will replace, exchange, or return any product at any time no matter what. 
For example...
Some Fear-Inducing Scenarios that are Totally Covered
- Some people love one fragrance but not another. If your selection is not what you had hoped, we will gladly exchange it for a different scent or simply return it for your money back. No questions asked. Seriously. Unless you want to tell us all about it. We are good listeners.
 - The Samsonite gorilla got a hold of your package? (Sheesh, that guy!) We will replace it. 
 - Porch pirates swipe your new favorite? We will replace it.
 - Candle isn't performing the way you expected it to? Yep! We will replace it.
 - Your sister's birthday present melts in your mailbox in July? We will replace it.
- Jerk-the-cat knocks your candle onto the floor? (We get it. It's a thing) we will replace it.
 - Candle swiped by TSA? We will replace it.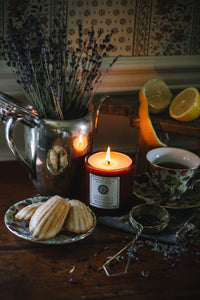 See what we mean?
If you need to replace, exchange, or return an item, just fill out the form on this page. We will get you sorted lickity-split.
Let us Know